Optoma EH504
Optoma EH504, een veelzijdige installatie projector met 5000 ansi-lumen en 1080p resolutie. Ideaal voor installaties maar ook voor verhuurbedrijven. Horizontale en verticale keystone correctie inclusief 4-punts geometrische correctie.
Horizontal keystone and four corner adjustment
5000 lumens, Full HD 1080p resolution
Ultimate Control - Crestron, Extron, AMX, PJ-Link and Telnet LAN commands
Installation flexibility – Vertical lens shift and 1.6x zoom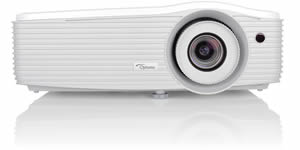 Delivering Full HD image quality, the EH504 is ideal for conference rooms, large classrooms, lecture theatres, museums and houses of worship. This large venue projector boasts a brightness of 5000 lumens and features multiple digital connection options, with two HDMI inputs on rear and one hidden HDMI for the optional HDCast Pro dongle. For more complex installations, this projector is equipped with a large zoom range, vertical lens shift and a built-in geometric adjustment feature - ideal for uneven walls or where a projector placement is awkward and needs to be installed at an angle.
High contrast
Add more depth to your image with a high contrast projector; with brighter whites and ultra-rich blacks, images come alive and text appears crisp and clear - ideal for business and education applications.

Full 3D
Optoma projectors can display true 3D content from almost any 3D source, including 3D Blu-ray players, 3D broadcasting and the latest generation games consoles. Support for 144Hz rapid refresh rate provides ultra-smooth flicker free images.

Full HD 1080p
1080p resolution gives you sharp and detailed images from HD content without downscaling or compression; perfect for watching Blu-ray movies, HD broadcasting and playing video games.

Integrated speaker
The built-in speaker offers excellent audio support. Easy to set up without the need for costly external speakers.
Energy saving
Using the specially designed lamp modes, you can reduce the power consumption by up to 70%. Each mode also has a positive effect on the lamp life, while lowering the total cost of ownership and reducing maintenance.
Auto power off
There may be instances when the projector is left running when not in use. To help save energy, the "Auto Power Off" feature automatically turns off the projector after a set period of time if it is not being used
Eco AV mute
Stay in control of your presentation with Eco AV mute. Direct your audience's attention away from the screen by blanking the image when no longer needed. This also reduces the power consumption by up to 70%, further prolonging the life of your lamp.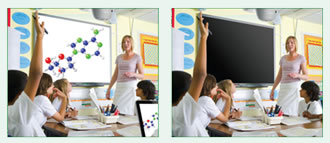 Vertical lens shift
Simplify installation with vertical lens shift, which provides a wider range of projector placement possibilities. This makes it easier to position the projector in your room and enables a wider range of screen size options.
Four corner adjustment
Individually warp each corner of the image to create a perfectly square image. Ideal for image stacking, uneven walls or where projector placement is awkward and needs to be installed at an angle.
Large zoom range
A large zoom range enables multiple placement possibilities at a variety of distances from the projection screen. An advantage to this is that expensive interchangeable lens projectors can be substituted with a more cost effective solution whilst still retaining a diverse choice of positioning options.
MHL
Turn your projector into a smart display by connecting your smartphone or tablet with a single cable using MHL, enabling you to view presentations and documents, stream videos and share photos on the big screen..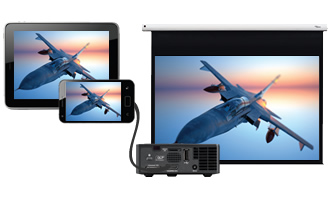 Networking and control
Featuring a wide range of options you can remotely control and monitor the projector.
RS232
Optoma projector's come with an extensive set of RS232 commands making it simple and easy to manage using any control system.
AMX Compatibility
Dynamic discovery protocol is incorporated into the projector allowing for easy installation with AMX control systems.
LAN Control
Using the compatible RoomView® software you can power on/off, monitor, manage and control up to 250 projectors at the same time from any computer.
Schedule the projectors to power on/off.
Control and alter the projector settings using the simple web browser.
Emergency text broadcast capabilities for urgent or important announcements.
Automatically receive email updates for lamp maintenance.

Colour guarantee
Enjoy dazzling colours for years to come; guaranteed by Optoma for five years' consistent performance.

Amazing colours
For vibrant, natural looking images, Optoma projectors incorporate BrilliantColor™ multi-colour processing technology.

Quick resume
This feature allows the projector to be instantly powered on again, if it is accidentally switched off.
USB power
Use the USB-Power to power an HDMI dongle, such as Google Chromecast or the Optoma WHD200 wireless HDMI device.