Optoma ML1500
De Optoma ML1500 is een 1500 ansi-lumen Led projector met een contrast van 15.000:1 en een throw ratio van 1.4.1.
De ML1500 heeft een usb aansluiting voor een WiFi Dongle om draadloos te presenteren. Ook kan hier een USB stick op aangesloten worden en kan de ML1500 SD-Cards lezen.
Media Player and Native Office Viewer
Play videos, photos, Microsoft Office & Adobe PDF files directly from an SD card or USB stick and view them directly on the projector without the need to connect the projector to a laptop, PC or DVD player.

Videos
Sit back after a long day to enjoy your favourite movies… without the need for file conversion; the ML1000 directly supports all the most popular video & music file formats and being both HD-Ready and LED, you can also be sure of vibrant colours, depth and clarity that will not disappoint.
Wireless Presentations
Present from your phone or tablet using the free App: WiFi-Doc. Available for both Android and iOS devices, WiFi-Doc gives you the freedom to wirelessly share and present documents and photos stored on your mobile device. Creating a more connected and collaborative experience for everyone.
Instantly connect and display presentation material wirelessly from a PC, Mac or mobile device using the included mini WiFi dongle which connects discreetly to the USB port on your ML1000, bringing you seamless wireless connectivity in a highly portable package. Enjoy big-screen presentations streamed to your projector, cable-free.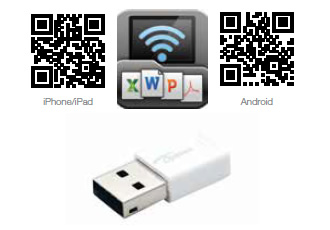 Audio WOW - SRS Wow HD™ Surround Sound
Embrace the WOW factor with SRS WOW HD surround sound audio processing to create a more natural audio experience with a deep, rich bass response. Easy to set up without the need for costly external speakers the ML1000 offers exceptional sound quality with on-board 6W stereo audio.
SRS WOW HD Features
Stereo enhancement which improves dynamic audio performance
Sculpted bass response for maximum thump from the on-board speakers
More natural audio with a wider sound field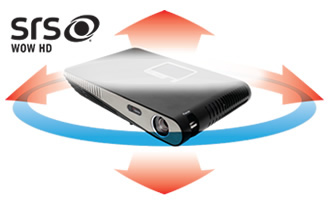 High frequency clarity
Bigger, wider sound field
Deep rich bass response
Ultra-Compact
Weighing only 1.4kg, the ML1000 is ultra light and compact. Coupled with the included carry case make it ideal for presentations on the go.

Auto Keystone
Digital keystone correction helps ensure that the projected image will always fit the area on which you are projecting.
Auto image adjust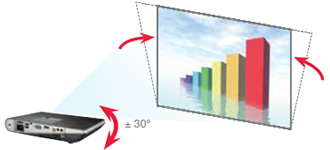 3D Ready

Using the inherent speed of DLP® technology, Optoma 3D Ready projectors can output video and images at an astonishing rate of 120Hz, allowing you to show full screen, full colour, stereoscopic 3D. Useful for both professionals and educators alike, the ML1000 brings both teaching and design to a whole new level of immersion and excitement.
Colour Guarantee
We are so confident that the ML1000 image colour quality will remain as good as the day you bought it that Optoma will guarantee it for five years.

Photos
Insert the SD card straight from your phone or camera to instantly share memories with small or large groups, without the need for extra cables. Alternatively leave a slideshow with audio running in the background before kicking off a meeting, to whet your audiences' appetite and stimulate discussion.
Presentation and Documents
With native support for Microsoft Office and Adobe PDF files, you can simply save your work onto the ML1000 internal memory, an SD card* or USB memory stick* and you are ready to go.

*SD Card & USB memory stick not included. Connection to some devices may require additional cables, available separately.
LED Technology
Using the benefits of LED technology, the ML1000 LED projector uses individual Red, Green and Blue LED modules to create the projected image without the need for a colour wheel.
LEDs increase efficiency and have an increased lamp life up to 20,000 hours. Saving you both time and money; while leaving you certain that your projector will be fully operational for many years to come
LED Lifespan
More than 10 years
Bright, Vibrant Images
The ML1000 produces bright, vibrant images with deeper saturation, bursting with life. This is due to Due to the exceptional colour fidelity created by LED technology; In many situations the perceived brightness of an LED projector can be up to twice the brightness of an equivalent lamp-based projector.
LED Brightness
LED
Lamp
Instant On/Off
Quickly setup and pack up with instant power On/Off. LED technology allows the projector to be a full brightness in seconds.
Digital Signage
Built-in digital signage function. Perfect for digital signage applications such as advertising and museum demos.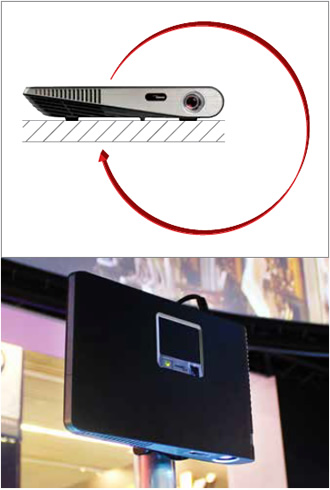 We know that improving our products is the best way to reduce our impact on the environment. That's why at Optoma, we design our products to have a long usable life, use fewer materials, ship with the minimum packaging and be free of all possible toxic substances. Naturally, energy efficiency and being recyclable are built in at the design stage. With each new product, we strive towards minimising our environmental impact.