Optoma EX855 (Zonder Lens) [PROSCENE]
De Optoma EX855 is uitermate geschikt voor grote vergaderzalen en AV staging.
Prijs zonder lens. Kies een lens naar keuze
Aspect Ratio: 4:3
Helderheid: 6000 ANSI lumens
Contrast Ratio: 2000
Display Type: DLP
Resolutie: XGA (1024 x 768)  
EX855
Uncompromising image quality, outstanding flexibility and ultimate reliability
The ProScene EX855 & EW865 are the epitome of our projection expertise; a revolution; a product designed exclusively for
demanding professional applications.

XGA or WXGA and 5500/6000 lumens delivering bright crystal clear images from a single lamp, the auto cleaning dust filter
prevents dust and dirt from affecting the system ensuring optimal image quality with minimal maintenance.

Motorised lens shift, focus and zoom combined with the extensive lens options provide installation flexibility for simple, trouble free use in a wide variety of situations.

Superb image quality is at the heart of every ProScene product design. At every step, commencing with the incredibly reliable, high resolution XGA or WXGA DLP® chip, where the image is initially created, via the Philips UHP lamp.

ProScene chose DLP® technology for its image quality and unmatched reliability. The reflective nature of DLP® micro-mirror technology provides highly efficient bright images with great contrast whilst maintaining precise colour accuracy and natural, real-world colour reproduction.
Geluid productie: 31 dB Uitgebreide Beeld en Kleur Opties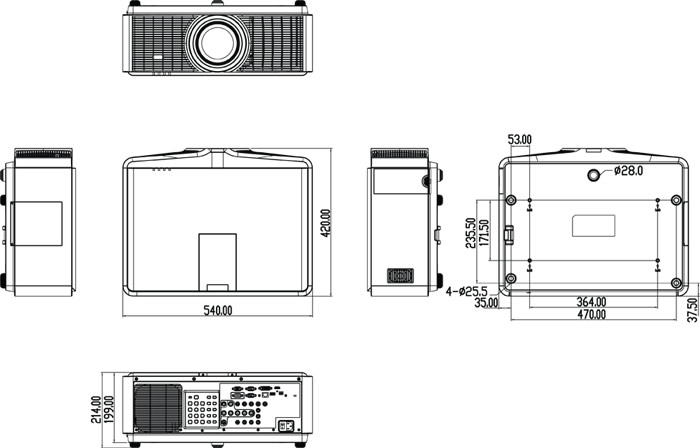 For demanding professional applications, the proven reliability of DLP® technology makes it the obvious choice.Aspect Ratio: 4:3 (Native) 16:9
Helderheid: 6000 ANSI lumens
Contrast Ratio: 2000
Display Type: DLP
Resolutie: XGA (1024 x 768)
Inputs:
1 x HDMI
1 x Component
1 x S-Video
1 x Composiet
3 x Stereo Mini Jack
2 x RCA Audio
1 x VGA D-Sub 15pin
Outputs:
1 x Stereo Mini Jack
1 x VGA D-Sub 15pin
Audio: 1 x 5W Mono Speaker
Controle: 
1 x USB Remote Control
1 x RS-232
1 x RJ-45 LAN
Verbruik: 1W (Standby)